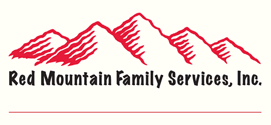 QUALITIES OF A TREATMENT FOSTER CARE PARENT
Red Mountain Family Services treatment foster care program consists of a network of highly trained treatment foster families who provide care to children who may have severe, complex, and persistent emotional disabilities, among other issues. It's not a job for just anyone.
You need to be a good communicator and problem solver; you must be able to express, accept and understand feelings – both yours and the child's. You need to have the ability to support the physical and emotional needs of the child. We look for a family that has structure, having the same routine everyday is extremely helpful to these children.
Contact the treatment foster care recruiter at
505-994-0363 ext. 33
BECOME A TREATMENT FOSTER PARENT
Red Mountain Family Services uses only licensed treatment foster parents in caring for our clients. There are a number of steps that potential treatment foster parents must take in order to become licensed treatment foster parents.
Only one in 15 families who begin the process to become treatment foster parents will actually complete the requirements and become licensed to care for treatment foster children. The process takes between 6 to 12 weeks and begins with a phone screening with the Red Mountain's treatment foster parent recruiter. The recruiter will explain the difference between treatment foster care and regular foster care and the expectation of working with children in treatment foster care. All of the children placed with Red Mountain Family Services have special needs. After the initial phone screening, the next step will begin with many appointments, evaluations, home visits and background checks. This is followed by, extensive training and interviews with our staff. All of our treatment foster parents have gone through this process, Red Mountain Family Services works at this screening and hiring process, we hire good solid families, they stay with us and they are good at being treatment foster care parents.
To get started on this very challenging but extremely rewarding life call our treatment foster parent recruiter at 505-994-0364 ext 33.
© 2022 Red Mountain Family Services. A New Mexico Nonprofit Corporation. All rights reserved.
PO Box 67197 Albuquerque, NM 87193 | 2001 Spring Dr. SE, Rio Rancho, NM 87124 | phone: 505-994-0364 | fax: 505-994-0384